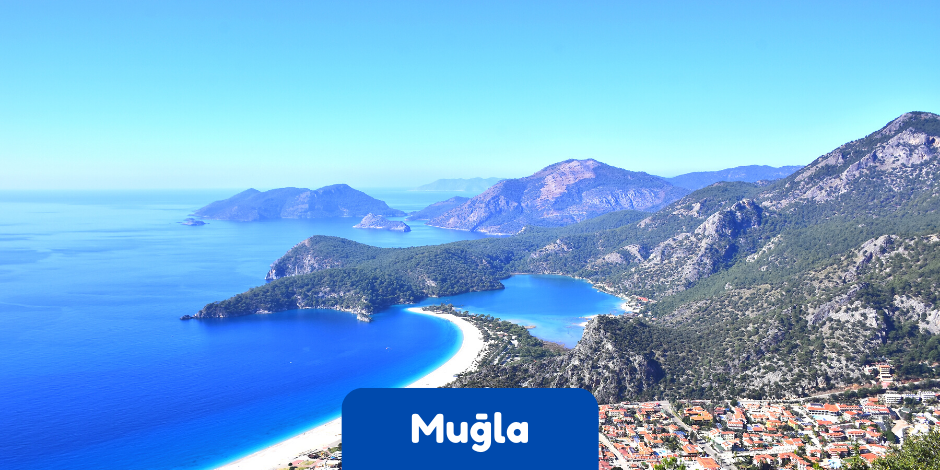 Mugla
Muğla is one of the most beautiful cities in Turkey. Located in the Southern Aegean, this region is famous for its historical riches, natural beauties, unique beaches and delicious food.
Popular holiday resorts such as Bodrum, Marmaris and Fethiye, which are located by the sea, are flooded with tourists in the summer months. However, other districts of Muğla are also worth seeing. This province, which is ideal for nature sports and trekking, is also a paradise for history lovers and nature lovers.
The history of Muğla goes back to ancient times. There are many ancient cities and historical buildings in this region. The most famous of these is the ancient city of Kaunos, which belongs to the Lycian civilization. This ancient city is located in Dalyan district and attracts attention with its rock tombs, theater and baths.
Muğla's natural beauties are also eye-catching. Oludeniz, which is especially famous around the world, attracts tourists with its clean waters and unique nature. This region is also ideal for nature sports such as paragliding and diving.
Muğla's entertainment life is also very lively. Especially Bodrum is famous for its bars and nightclubs. Bodrum Castle and Marina Yacht Club host famous parties and concerts in summer.
Local delicacies of Muğla are definitely worth trying. The region, which has a culinary culture dominated by seafood and olive oil, is especially famous for its fish restaurants. In addition to fish restaurants, you can also find delicious options from world cuisine in Bodrum.
Muğla's natural beauties, historical texture and entertainment life attract the attention of tourists. However, there are many more corners waiting to be discovered with its real beauty, natural life and calmness that fills people with peace. Muğla is one of the most special places in Turkey, offering an unforgettable holiday experience.