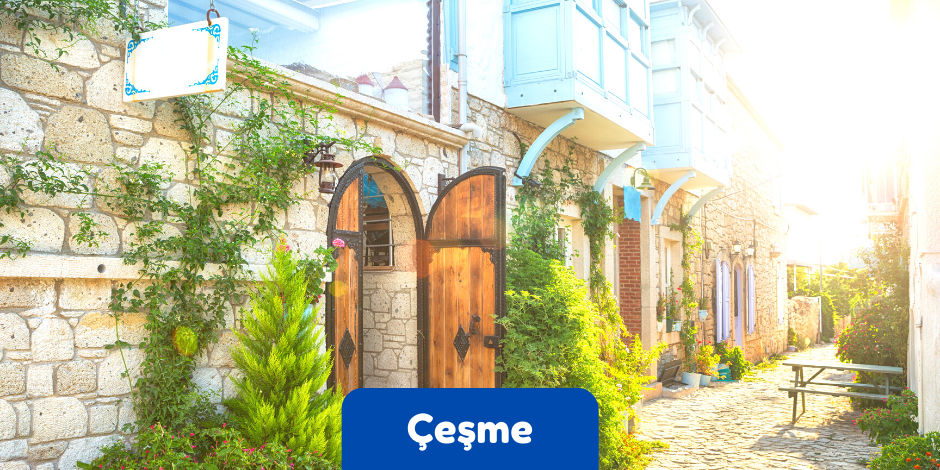 Çeşme
Are you ready for a journey to the beauties, history, culture and flavors of Çeşme, the pearl of İzmir?
One of the most special places you can choose for a summer vacation, Çeşme will fascinate you with its natural beauties, historical buildings, beaches and flavors. Located in the west of Izmir, this charming town will make your holiday unforgettable with its historical texture and unique view.
Çeşme, whose historical texture dates back to before the Turkish conquest of İzmir, is known as the pearl of the Aegean Sea. Traces of many civilizations are found in these lands. Under the influence of different cultures such as the Genoese, Venetians, Seljuks and Ottomans in the past, Çeşme draws attention with its historical buildings.
First of all, Çeşme Castle is one of the most striking historical buildings of the district. Built by the Ottoman Empire in 1508, the castle has a view of the Aegean Sea. When you visit the castle, you can also see the historical fountains located next to the castle, which carries the deep traces of history.
Historical Sivriada, on the other hand, is an important historical building located among the islands of Çeşme. The castle, built by the Genoese, has been under the influence of different civilizations over time. The only part of this historical castle that can be visited is the entrance. However, in this section, you can listen to the stories of the historical castle and immerse yourself in the historical atmosphere.
The natural beauties of Çeşme are as striking as its historical buildings. Ilica Beach is one of the most popular beaches in the city. The beach, located in the center of the district, has a special place due to its hot water sources. Water resources provide many benefits that can be used for health and healing purposes.
We said that Çeşme is a geography full of natural beauties. In addition to the sea, sand and sun, Çeşme's lush forests fascinate you. Aya Yorgi Bay, located in Ilıca, is a hidden paradise established in the middle of forests. You can come here and enjoy the natural beauties while enjoying the sea. Also, the Aya Yorgi Monastery located here is just one of the places you can visit as a historical and cultural heritage.
Çeşme is also famous for its natural thermal waters. Thermal hotels in Ilıca offer their guests healing waters. Here you can relieve stress with the hot water of nature and get rid of body aches. It is also known that thermal waters have benefits for skin health.
The historical heritage of Çeşme is also very rich. You can visit historical places such as the Castle in Ilıca, historical buildings from the Ottoman period, the Ancient City of Erythrai and the Church of Hagia Haralambos. All these are important stops for those who want to discover the history of Çeşme.
Çeşme is famous for its entertainment life as well as tourism. It is a city full of various festivals, concerts, festivities, fairs and events held every year. Cesme Marina is a very important port in terms of yacht tourism and offers many activities and services for yacht owners. In addition, the restaurants, bars and nightclubs in Alaçatı offer a pleasant nightlife to the visitors.
When you go to Çeşme, it is a must to taste its rich flavors. Famous for its peach and tangerine orchards, Çeşme is also famous for its fruits and vegetables. Famous for its appetizers prepared with olive oil, fish, seafood and fresh herbs, Çeşme cuisine draws attention with its delicious and healthy dishes. In addition, cafes, patisseries and restaurants in Alaçatı offer traditional tastes to visitors in a modern way.
After a pleasant journey, it is impossible not to admire Cesme. It is a holiday destination that appeals to everyone with its unique beauties, historical texture, idyllic beaches offered by the sea and the sun, delicious food and lively nightlife.
There are so many places to lose yourself in Çeşme that you may feel like a few days will not be enough. But don't worry, you will always have a reason to return to Çeşme. We wish you an unforgettable holiday in this beautiful town where you can have fun and relax as you please.