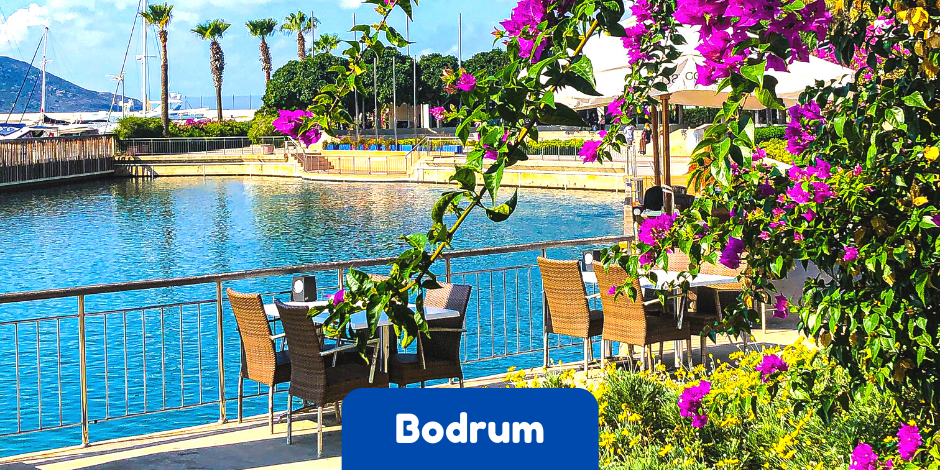 Bodrum
Bodrum is a rich city with its world-famous tourist sites, historical buildings, natural beauties and unique tastes. We have prepared a detailed travel and travel article about Bodrum for you.
Bodrum is one of the most important touristic centers of Muğla, located in the Aegean region of Turkey. With its turquoise sea, sunny weather, historical ruins and fun nightlife, Bodrum attracts tourists every season of the year.
One of the most important touristic places of Bodrum is undoubtedly Bodrum Castle. Located in Bodrum, known as Halicarnassus in ancient times, this castle was built in the 4th century BC and is one of the oldest castles in the world. The Bodrum Underwater Archeology Museum is full of artifacts unearthed from ancient cities under the sea and exhibits describing the history of Western Anatolia. The castle also hosts the annual Bodrum International Dance Festival.
Another touristic place of Bodrum is the ancient city of Halicarnassus. This city, which was ruled by Persians, Macedonians, Romans and Byzantines in ancient times, is located right next to Bodrum Castle. With its ancient theatre, colonnaded street, agora and necropolis, Halicarnassus is a great place to visit for those interested in history.
Bodrum is famous for its natural beauties as well as tourist attractions. Güvercinlik Bay is considered to be the most remarkable of Bodrum's natural beauties. Famous for its turquoise sea and natural beauties, Güvercinlik Bay is also an ideal place for hiking and camping.
Bodrum is also famous for its flavors. Bodrum's fish restaurants offer visitors an unforgettable dining experience with their delicious appetizers and seafood menus. In addition, there are delicacies such as 'Pumpkin Dessert' and 'Lokma Dessert', which are famous for their desserts in Bodrum.
Bodrum is also very famous for its nightlife. Bodrum Bar Street is the most famous bar street in Turkey. Here, you can spend nights full of live music, dancing and fun. Among the most famous nightclubs of Bodrum are Halikarnas, Catamaran, Club Mood and Marina Yacht Club. These clubs offer visitors an unforgettable night with their world-famous DJs and live performances.
Bodrum also has many options in terms of sports activities. You can do many sports activities such as water sports, diving, sailing, canoeing, rock climbing, trekking and cycling in Bodrum. Bodrum also has golf courses and tennis courts.
Bodrum is also famous for its cultural events. Bodrum Music Festival is held every year in June. The festival, which is full of concerts by world-famous musicians, is held in Bodrum Castle. Bodrum International Film Festival is also held every year in Bodrum. This festival is one of the most important film festivals in Turkey and brings world famous actors and directors to Bodrum.
Bodrum also offers many options to its visitors with its shopping centers, boutique stores and markets. There are stores of many domestic and foreign brands in Bodrum. In addition, the bazaars in Bodrum offer many original and local products such as local handicrafts, jewellery, carpets, spices and jams.
Bodrum's beaches offer an enchanting atmosphere with its magnificent views and sunsets. Among the most popular beaches are Gumusluk Beach, Bitez Beach, Yalikavak Beach and Turkbuku Beach. These beaches amaze visitors with their crystal clear seas and warm sands.
With its historical ruins, natural beauties, unique tastes, entertaining nightlife, sports activities, cultural events and beaches, Bodrum is one of Turkey's most popular tourist destinations and offers its visitors an unforgettable holiday experience. When you go to Bodrum, you should spare enough time to discover these beauties.