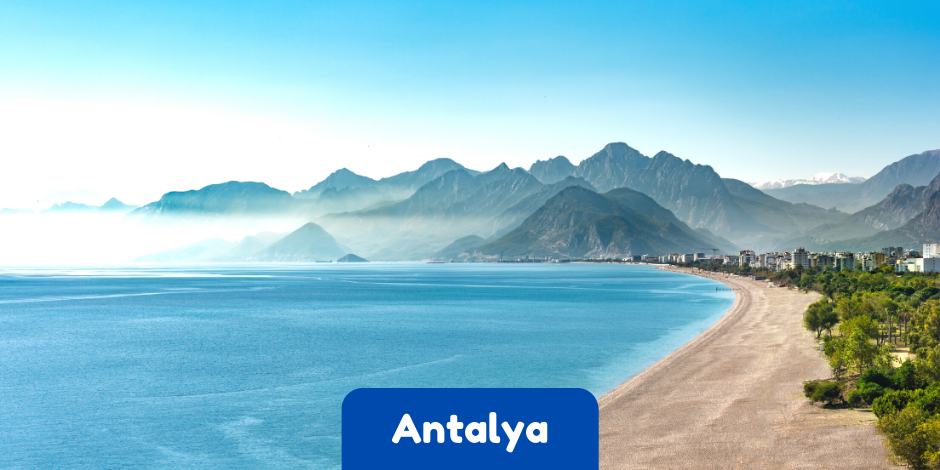 Antalya
Antalya is a touristic city visited by millions of tourists every year with its historical and natural beauties, wonderful beaches and delicious food. There is so much to come and see that we will give you some suggestions here to make the most of your time.
Kaleiçi's historical texture is definitely a place to be visited. While walking here, you will get lost among the historical Ottoman and Seljuk buildings. While exploring the streets, you may come across small shops selling traditional handicrafts. Those who want to participate in many cultural activities can also visit the Antalya Museum located here. While you can learn about the history of Antalya in the museum, you can also see the artifacts from Antalya's ancient times.
The natural beauties of Antalya are also worth seeing. Kaputaş Beach, considered one of the most beautiful beaches in the world, is one of the best beaches in Antalya. The clear turquoise waters and sandy beach of this wonderful beach are ideal for those who want to enjoy the sea. Also, Düden Waterfall is worth seeing. This waterfall is located about 10 kilometers from the city center and offers a unique experience thanks to the walking path that passes under its waters.
Antalya is also famous for its delicious food. Antalya cuisine, which combines the rich seafood and fresh vegetables of the Mediterranean, offers many different tastes. You should definitely try the appetizers, kebabs and fish. For those who want to enjoy street food, Antalya has many small shops and restaurants selling kebabs, wraps and pastries.
Antalya's nightlife is also very active. Especially the bars and clubs in Kaleici attract the attention of tourists. Here, besides young people, tourists who love the historical atmosphere can also enjoy the fun.
A trip to Antalya is a trip that everyone should do. It invites you to great times with its historical and natural beauties, delicious food and lively nightlife.